At Pittwater House, we have developed our Masterplan to sustain the needs of our 21st Century learners.
After two years of planning, and in partnership with leading architects, the Board of Governors, traffic management specialists and stakeholders, the objectives of the Masterplan are to:
Extend the amenity and accessibility of the Senior School buildings
Increase the number and facilities of classroom spaces across the School
Develop a dedicated Library and Resource Centre for Junior and Senior School students
Provide a seamless and safe drop-off/pick-up experience for School families
Provide a single Reception/Admissions Office for new and current families.
Being numerous, they will be completed in a staged approach.
Our Masterplan
This video offers a birds eye view of our vision for the renewed campus.
Senior School Upgrades
Broad new covered outdoor corridors, multi-purpose areas and an elevator will be added to the Senior School buildings, improving student flow and accessibility and providing additional locations for students to gather and work outside of the classroom.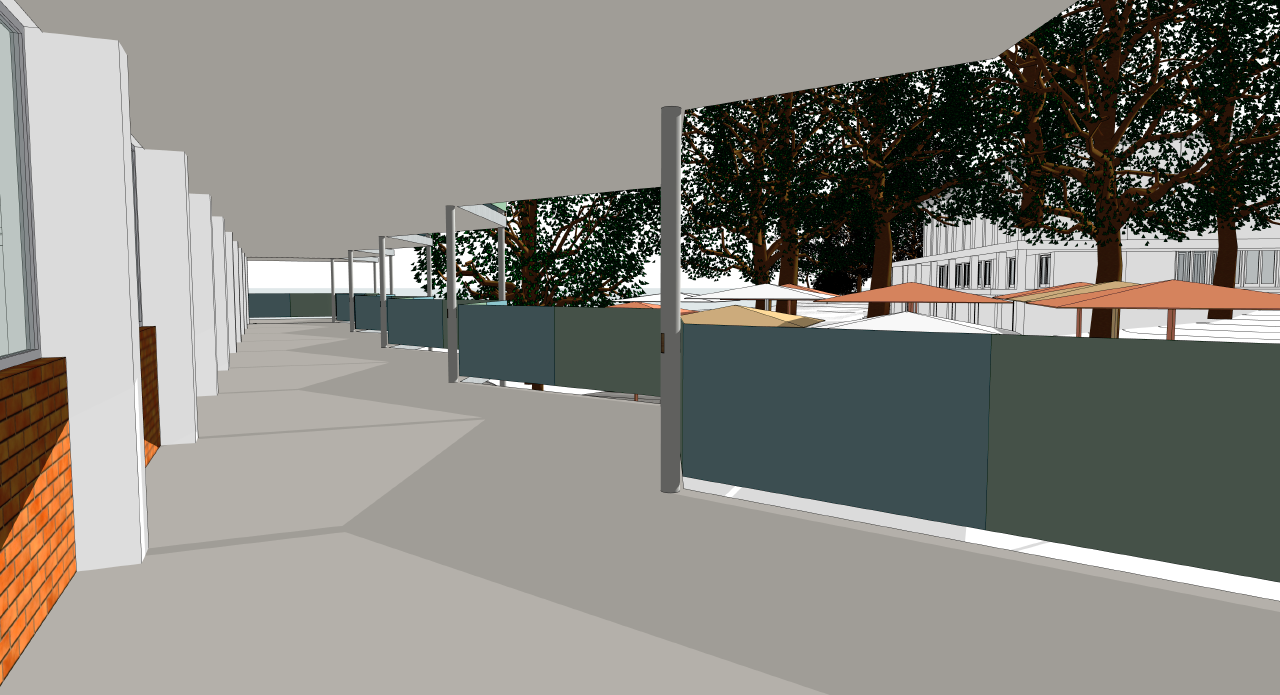 Concept image of the Senior School outdoor corridors
Library and Resource Centre
This new two-level building will be located adjacent to the Junior School and will include:

A Junior Library and a Secondary Library
Individual study and reading spaces
Group study areas and meeting hubs
A Makerspace (where students can come together to develop creative projects)
A meeting and learning space to house 80-100 students.

Concept images of the Library and Resource Centre
Reception and Admissions Office
On the ground floor, a combined Reception and Admissions office will provide a single access point and meeting spaces to current and visiting families for school matters, which is easily visible and accessible from the South Creek Road carpark.
Classroom Upgrades
Upgrades to furnishings, fittings and technology will occur to ensure all our classrooms are of a high standard.
Part of the classroom focus was the creation of our Kindergarten – Year 2 Discovery Hub, with upgrades completed over the 2019/2020 Summer Recess. The Discovery Hub provides our youngest members the opportunity to work and play in a more fluid fashion, to allow vertical socialisation and integration across the years. To achieve this, it utilises the outdoors in fun and creative ways and provides a learning environment that caters appropriately to individual student needs.
Drop-off and Pick-up Zone
A feature of the Masterplan is the inclusion of a new driveway further along South Creek Road which will allow cars to enter the campus for a brief period in the morning and again at pick up time. This solution has been designed in conjunction with a traffic management firm to arrive at the best possible scenario to manage school and local traffic.
Outside of these brief drop-off and pick-up times, the gate to this driveway will be locked, when the area will become play space for our students.
Why is the School undertaking the Masterplan project?
Together with our architects and other experts, we have developed a cohesive and strategic design for the School's next steps. The Masterplan aims to:
Augment existing facilities with more modern facilities that reflect new ways of learning;
Provide high quality, multi-purpose learning and meeting spaces for school students and visitors;
Remediate existing buildings to make them bright new learning spaces;
Improve accessibility and safety for students and staff on campus.
Where is the planning approval process up to?
Our plans have been approved by the Council. We are now finalising plans and moving to the building tender process.
When will construction commence and how long will it take?
The School must gain regulatory approval before construction can begin, however it is our intention to start construction during Term 4 of 2021. The Masterplan will be implemented in a staged manner over approximately four - five years, with construction works occurring during school holidays wherever possible, to minimise disruptions to learning. The first stage will be the Kiss and Drop zone and associated work followed by the Senior School upgrades.
Is the Masterplan related to a plan to increase student numbers?
No. This is a plan for renewal, not expansion.
How will the School and surrounding residents be affected during construction?
We will be respectful to our neighbours and will work with them to minimise any disruption during construction. All of the proposed building work is inside the Campus, away from the majority of our neighbours.

Our School will continue to operate on-site as normal, so the construction program will be managed to minimise dust and noise. Careful design and supervision of building works will allow for our students to continue to engage in all the activities that comprise each day with minimal adverse impact.
Will there be ongoing project updates?
Community members, neighbours and families will be able to read project updates here on our website.

Your feedback is important to us. If you have additional queries, please email us on: [email protected].