Precious minds, precious time
Our Early Childhood Centre provides an exceptional and flexible pre-school education for children aged 3-5 years.

It provides pre-schoolers with an early learning experience that engages their senses, stimulates their innate curiosity and nurtures their budding intellectual, social and emotional growth.
Our team are comprised of highly trained and experienced professionals who are devoted to providing quality care and education that reflects the philosophy of our service. They are committed to their ongoing professional development in the field of early childhood education and continually collaborate to share insights and learnings that benefit the young children in their care.
Enrolments forms for the Early Childhood Centre can be found on our How to Enrol page.
About our Centre
Our Early Childhood Centre is located in a secure, purpose-built learning environment within the Pittwater House School campus. It boasts two autonomous outdoor spaces, an undercover sandpit and an interactive sustainability garden. The Early Childhood Centre is also able to utilise facilities within the school campus such as the Pittwater House library, Great Hall and the Kindy - Year 2 playground.
Comprised of two classes - the Bilbies (3-4 year-olds) and the Possums (4-5 year-olds), our high educator-student ratio ensures each child's developmental needs are nurtured and tracked.
In our recent quality assurance assessment, we proudly achieved an 'Exceeding' rating from the Australian Children's Education & Care Quality Authority (ACECQA), which audits the quality of centres across seven areas. Click here for further information.
This result reflects our commitment to continuous high-quality, early childhood education and care for children and their families.
Centre Philosophy
Inspired by the Reggio Emilia approach, our Centre embraces the important role that families play in children's early learning and our staff work closely together to share in the exciting learning journey of each child. We are therefore committed to open and meaningful communication with families, reflecting their values and beliefs.
Our dedicated team of educators combine their many years of experience to provide high quality care and education. The consistency of care they provide to each and every child is of paramount importance to ensure their needs are anticipated and their well-being is closely monitored.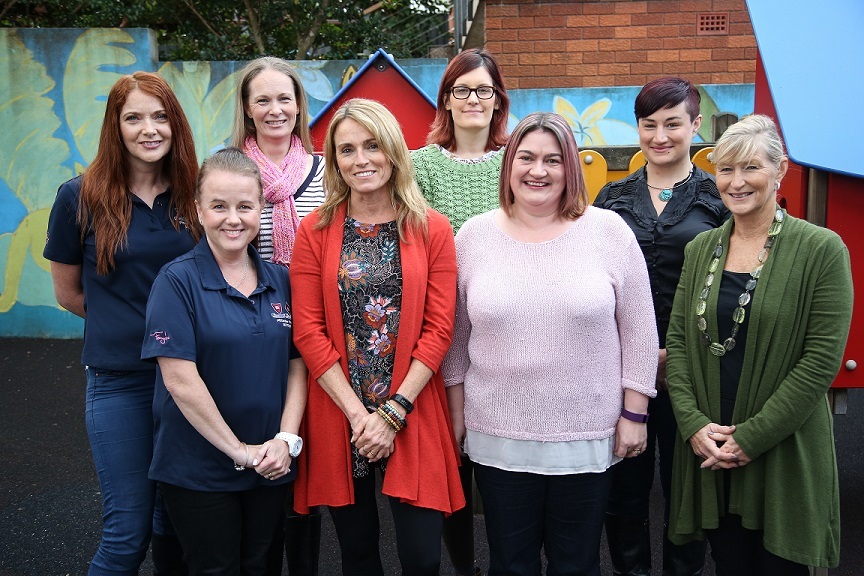 A highly experienced and qualified team
Program Options
2021 Classes
Age
Number of Days
Bilbies
Early Learning Program
3 - 4 year olds
Minimum 2 days (your choice of days)
Possums
Pre-Kindergarten Transition Program
4 - 5 year olds
Minimum 2 days (your choice of days)
| 2021 Fee Structure | Hours | Fee |
| --- | --- | --- |
| Short Day Program (Term time only) | 8.30am-3.30pm | $115 per day |
| Long Day Program (Term time only) | 7.30am-6.00pm | $135 per day |
| Long Day Program (48 weeks per year*) | 7.30am-6.00pm | $135 per day |
| Casual Rates (Term time and non-term time) | 7.30am-6.00pm | $160 per day |
* 18 January 2021 until 17 December 2021
About our Program
Our pre-school program is based on the 'Belonging, Being and Becoming' Early Years Learning framework, the National Quality Framework for early childhood and care set out by the Australian Government. The Framework provides a holistic approach to early learning with play as an essential part of early development. Read more about the National Quality Framework here.
Our program encompasses key learning areas such as:
Sustainability
The concept of well-being and belonging
Language and literacy
Numeracy and early maths concepts
Creative arts
Physical education
Science and technology.
To support the 'Belonging' component of the curriculum, children wear an age-appropriate version of the Pittwater House Junior School uniform to help children feel part of the School and assist with the transition from pre-school into kindergarten.
We are able to further enrich children's learning and developmental experiences using the facilities of the Pittwater House campus. While older school students are in class, Early Childhood Centre children have supervised access to the broader facilities within the School, including the library, additional playgrounds, the Great Hall, the indoor sports centre and outdoor sports facilities such as tennis courts and the oval.
Early Childhood Centre children also have access to the Pittwater House Health Centre, where a full-time nursing sister ensures the health and well-being of all our students.
Transitioning
Starting pre-school can be daunting — for both children and their parents. We understand that children learn best when they feel safe and confident, so we provide numerous strategies to help you and your child settle into the Centre.
We also have transition programs to help children take the step from pre-school to kindergarten. Our inclusive approach is designed to create a confident and collaborative child who is excited to embrace new challenges and experiences in kindergarten.
For those transitioning into Pittwater House Junior School we offer a seamless program which enables each pre-schooler to become familiar with the kindergarten classrooms and routines.
What times do you operate?
The Early Childhood Centre classes run from 7.30am to 6.00pm (long day program) or 8:30am to 3.30pm (short day program), Monday to Friday. During the holidays we are open 7.30am to 6.00pm. The Centre operates 48 weeks of the year and is closed for four weeks over Christmas.
What parental involvement is there?
Parents and family play a vital role in children's early learning. We work in partnership with parents and family so that together, we can provide the best start to your child's education. Each child will have progress records maintained for the purpose of programming and development. Parents are encouraged to access this information via our portal 'EDUCA' which enables families the opportunity to observe, communicate and contribute towards their child's learning journey.
What curriculum do you follow?
We focus on five learning outcomes, as set by the Australian Government's Early Years Learning Framework.
Can we get the Child Care Subsidy (CCS)?
Eligible families are entitled to the Child Care Subsidy. To find out more about eligibility criteria, visit the Australian Department of Human Services website.
Is the pre-school co-educational?
Yes. From kindergarten onwards, we have single-sex classes on a co-educational campus. Learn more about our unique twin schooling approach.
"A place where your child benefits from individual attention based on their interests and needs."