Give your pre-schooler an early learning experience filled with wonder and opportunity.
Watch them flourish while we plant the seeds for life-long learning at our Early Childhood Centre, which offers an exceptional, pre-school education for children aged three to five years.
Who we are
The Early Childhood Centre is a separate environment within the Pittwater House school campus comprising of two classes - the Bilbies (3-4 year-olds) and the Possums (4-5 year-olds). Our children have the opportunity to engage with indoor and outdoor environments where qualified educators support play-based and interest led learning for each child.
We achieved an 'Exceeding' Rating in the National Quality Standard.
This result reflects our commitment to continuous high-quality, early childhood education and care for children and their families.
2019 Classes
Age
Number of Days
Bilbies
Early Learning Program
3 - 4 year olds
Minimum 2 days (your choice of days)
Possums
Pre-Kindergarten Transition Program
4 - 5 year olds
Minimum 2 days (your choice of days)
| 2019 Fee Structure | Hours | Fee |
| --- | --- | --- |
| Short Day Program (Term time only) | 8.30am-3.00pm | $105 per day |
| Long Day Program (Term time only) | 7.30am-6.00pm | $125 per day |
| Long Day Program (48 weeks per year) | 7.30am-6.00pm | $125 per day |
| Casual Rates (Term time and non-term time) | | $155 per day |
Our educators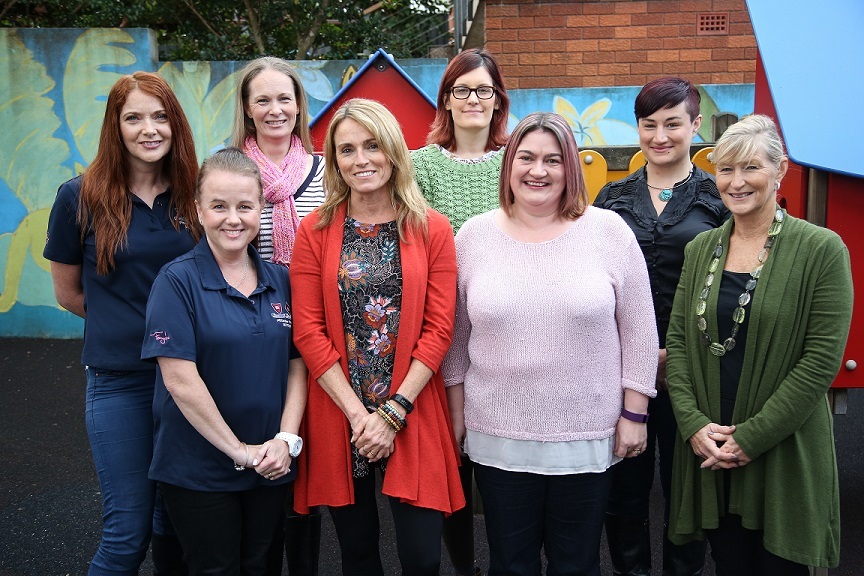 ECC staff
Centre philosophy
Early Childhood Education is the foundation of a child's journey into lifelong learning. In the Early Childhood Centre at Pittwater House, we believe that each child is a unique individual and therefore respect that all children have the fundamental right to be heard and to contribute to their own educational discoveries. Our approach to our Early Childhood Program is recognised as an ongoing process which develops each child's personality, talents and abilities to the fullest (UNCROC 1990).
With a comprehensive knowledge of social constructivist theories underpinning our daily practice, we acknowledge that learners construct new understandings based upon their own personal experiences. We also recognise that parents play an important role in shaping these experiences within their own environmental and community contexts. We are therefore committed to open and meaningful communication with families, reflecting their values and beliefs as we actively encourage their involvement and participation in all aspects of our curriculum planning processes and policy development.
Our educators are dedicated and highly trained professionals, who are devoted to providing high quality care and education which supports the Philosophy of our Centre. Each educator contributes their own individual skills and strengths that we believe enhances the learning environment for the children. The consistency of care is of paramount importance to maintain the overall wellbeing of our whole community.
The Pittwater House Early Years Curriculum reflects the Principles and Practices of the Early Years Learning Framework: Belonging, Being and Becoming. It is a program which provides the children with the opportunity to practice and consolidate their skills in a nurturing and stimulating environment. The children's ongoing discovery of learning is encouraged through a diverse range of child initiated and educator led activities which ultimately leads into a comprehensive school transition program in preparation for their next educational journey.
Article 29 (Goals of education. United Nations Convention on the Rights of a child 1990).
Our curriculum
Our high-quality curriculum reflects the Centre's philosophy, our environment, our community, our families, and is predominately motivated by our children's strengths and interests. Our curriculum is also based on the National Quality Standard (2017, ACECQA) that incorporates the Early Years Learning Framework. It is continuously enhanced to ensure we are catering for and including topics and learning experiences that are of current interest to the children and relates to their level of development. Informed by internationally recognised best practice and up-to-date research and underpinned by nurturing strong relationships, our programme is flexible and emergent.
Holistically, our program encompasses key learning areas such as:
Sustainability
The concept of wellbeing and belonging
Language and literacy
Numeracy and early maths concepts
Creative arts
Physical education
Science and technology
Each child will have progress records maintained for the purpose of programming and development. Parents are encouraged to access this information via our portal 'Educa' which enables families the opportunity to observe, communicate and contribute towards their child's learning journey. These records, along with the children's current interests and competencies, form the basis of our daily programme. All children will experience learning that is engaging, and this is a foundation that builds wellbeing and success in life.
Fundamental to the Early Years Learning Framework is a view of children's lives as characterised by Belonging, Being, & Becoming which becomes apparent through the five learning outcomes within Early Years Learning Framework.
Children have a strong sense of identity
Children are connected with and contribute to their world
Children have a strong sense of wellbeing
Children are confident and involved learners
Children are effective communicators
The Early Years Learning Framework's holistic approach to education is reflected in the individual programming and documentation of your child's learning journey.
We are able to further extend children's learning and developmental experiences using the facilities of the Pittwater House campus. These additional learning opportunities include, the school library, tennis coaching and fully equipped gymnasium and much more. The grounds allow us the opportunity to garden, climb equipment and conduct physical exercise on the oval or in the full size gymnasium.
What times do you operate?
The Early Childhood Centre classes run from 7.30am to 6.00pm (long day program) or 8:30am to 3.30pm (short day program), Monday to Friday.
What parental involvement is there?
Parents and family play a vital role in children's early learning. We work in partnership with parents and family so that together, we can provide the best start to your child's education.
What's the curriculum?
We focus on five learning outcomes, as set by the Early Years Learning Framework's national curriculum. Learn more about our ECC curriculum.
Is there a uniform?
Children wear an age-appropriate version of the Pittwater House Junior School uniform. This helps your child feel like a part of the school and assists with the transition from pre-school to Kindergarten.
Can we get the childcare rebate?
Not currently, however are planning to offer this to families from 2019.
Is the pre-school co-educational?
Yes. From Kindergarten onwards, we have single-sex classes on a co-educational campus. Learn more about our unique twin schooling approach.
Does your program run through the school holidays
Yes, we operate 48 weeks of the year. During the holidays we are open 7.30am to 6.00pm.
" Since starting at the ECC, Georgia's communication skills have improved immensely due to the small classes, one-on-one learning & structured environment - giving her a head start for school."